Eleven graduates of Starkloff Disability Institute's Spring 2019 Capstone Course were celebrated on May 2, 2019 at THE HEIGHTS in Richmond Heights. This is the 13th group to graduate since Starkloff Career Academy launched the program in 2012. Tricia O'Brien, a graduate of the Summer 2017 Boot Camp, emceed the ceremony. Annette Morris, Director of Diversity, Inclusion and Gender Balance with Néstle Purina served as commencement speaker. Afterward, graduates celebrated alongside friends and family, Starkloff Board members and honored guests from our partner companies.
The Spring 2019 Capstone Course expanded on new initiatives introduced in the Fall 2018 course. These included adding two additional weeks to the program and an additional day with the Center for Creative Arts (COCA), where participants learned valuable storytelling and public speaking skills from world-renowned actors and writers.
Participants later had the opportunity to practice behavioral interview techniques with recruiters from Mercy Healthcare and Ameren Corporation.
"The Starkloff Disability Institute Capstone Course has surpassed all my expectations," said participant Almitra Johnson. "I would recommend this class to any candidates seeking information on how to prepare, execute and get the job of their dreams. Thanks for the opportunity."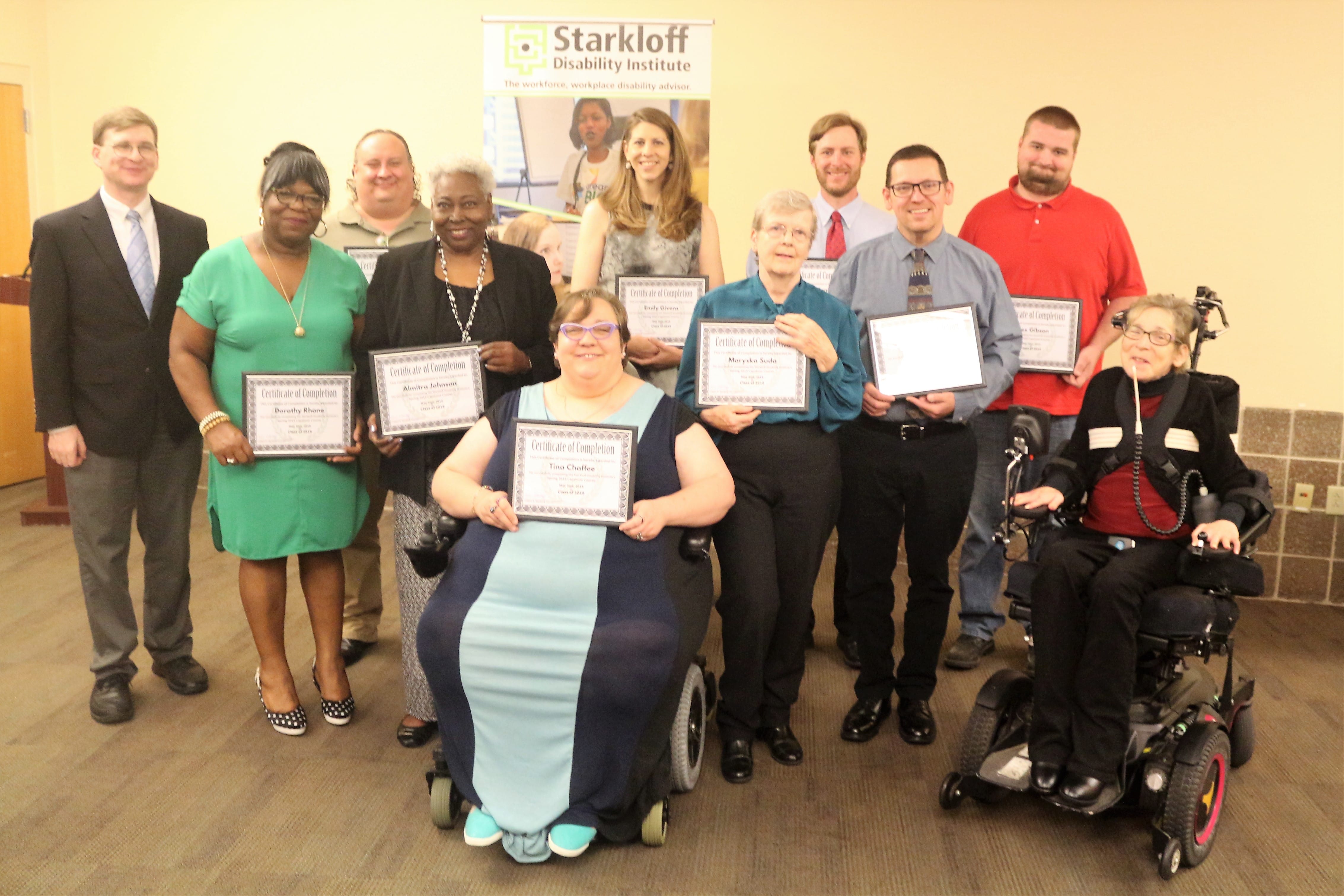 Here are the Spring 2019 Capstone Course Graduates:
Alex Gibson
Alex likes to say he has been working on cars since he was a baby. He also has an aptitude for computer programming. He has an Associate's Degree in Computer Programming from Ranken Technical College and is looking for jobs in car mechanics or programming.
Almitra Johnson
Almitra has a Master's Degree in Business Administration from Webster University and 30 years of experience working with youth in nonprofit settings. Currently, Almitra is volunteering through the AARP's Senior Community Service Employment Program (SCSEP). Her goal is to return to working with youth and gain the experience necessary to open a residential home for teenagers aging out of foster care.
Brady Kedge
Brady has a Bachelor's Degree in Computer Science from UMSL. He says he enjoys the problem-solving aspect of programming and is looking for jobs in IT and software design.
Dorothy Rhone
Dorothy worked for 27 years in nursing until she retired. A few years later, she decided to go back to work. She is currently volunteering with AARP's SCSEP program and is seeking opportunities in the nonprofit or medical sectors.
Emily Givens
Emily has a Bachelor's Degree in music from Southern Illinois University. She is an accomplished pianist, music teacher, and vocal coach and is now transitioning into sales roles to support her passion for working with people.
John Claggett
John has a Bachelor's Degree in Environmental Sciences from Westminster College and a Bachelor's Degree in Anthropology from UMSL. His big goal is to become an archeologist. He has already participated in 4 field studies and plans on doing more this summer.
Maryska Suda
Maryska has a Master's Degree in Political Science from Washington University where she later worked as an editor. Maryska has also worked and volunteered for organizations including Kingdom House, the International Institute and is currently an employment specialist with the AARP Foundation. Maryska's goal is to find employment in an academic setting, preferably supporting international students.
Matt Tilley
Matt is a veteran of the US Navy Seabees and served for 11 years as a police officer in St. Louis County. After retiring, Matt began pursuing his passions in web development and graphic design. He is now looking for roles in these fields.
Ron Selinger
Ron has Bachelor's and Master's degrees in Theater from Lindenwood University. In addition to acting, he has worked in retail and customer service. He is currently a part-time ASL Instructor for both St. Louis Community College and Deaf Inc. Though he wants to eventually direct plays, Ron is also keeping an eye out for new possibilities and is exploring other career options.
Tina Chaffee
Tina has a Bachelor's Degree in English Education from Southern Illinois University. She worked for 8 years as a school teacher and is currently exploring many options for her next career.
For more information on how you can recruit one of our talented grads, contact Jason Hartsfield, Adult Career Services Coordinator at jhartsfield@starkloff.org or (314) 588-7090.
May all the Capstone Course graduates conquer the jobs of their dreams!
The Starkloff Career Academy wishes to thank the following people for making the Spring 2019 Capstone Course a great success:
Amanda Austin, Senior Recruiter, Mercy Healthcare
Barb Martin, Senior Recruiter, Mercy Healthcare
Catherine Hwang, Compliance Officer, Office of Federal Contract Compliance Programs
Jennifer Feinberg, Recruiter, Mercy Healthcare
Jennifer Krsul, Recruiter, Ameren Corporation
Lee Ann Matthews, COCAbiz Instructor
Nya Grimes, Strategic Workforce Specialist, Ameren Corporation
Sandy Weitkamp, Benefits Case Manager, BCI Skills Center
Steve Knight, COCAbiz Director
Steve Reggi, COCAbiz Instructor
Susan Grigsby, COCAbiz Instructor