Colleen Starkloff Talks Disability
Each of us believes that employment is key to our daily lives.
A good job brings enhanced self-esteem, dignity, identity and pride.  It also brings the opportunity to use our skills to improve the employer's bottom line while enhancing our own self-satisfaction.  Moreover, employment brings income that enables us to shape our own futures and create our dreams.
Part of being successful in the workplace is having all the tools you need to be productive.
Assistive technology is technology that enhances a person with a disability's ability to perform a task. The great news about assistive technology is that it's easily available for employers and quite easy to set up. In addition, some of it is technology that all of us already use anyway!
Here are three examples of assistive technology that empower people with disabilities in the workplace:
1. Voice Recognition Software
People who have a disability that affects their ability to type with their hands may use voice recognition software on their computers. The benefit to having voice recognition software, like "Dragon NaturallySpeaking," is increased productivity for someone who otherwise wouldn't have been able to type at all. This software is voice-to-text software. People who use voice recognition software are able to be as productive, if not more, as their keyboard using peers, too.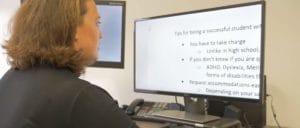 2. Text Magnifying Software
Microsoft has text magnifying software already built in to all of its Microsoft Office products. For someone who is low-vision, i.e. legally blind, being able to enlarge text on a computer screen dramatically enhances their productivity. My colleagues in the office who use enlarged text on their computers are able to keep up with office communications and other work tasks with a simple adjustment to their existing computer software.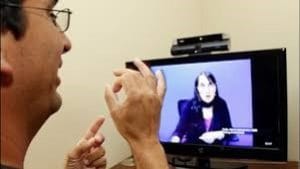 3. Video Phones (VPhones)
Video phones are a vital piece of assistive technology enabling deaf people to use a telephone. Video relay service opens a new world for deaf people by making an American Sign Language (ASL) interpreter available on a computer monitor to facilitate a call with a hearing person. A deaf person calls a telephone number which connects them to the interpreter. They can see the interpreter on a video monitor. The interpreter signs to the deaf person, and iterpretes for the hearing person. The video relay service is provided free of charge to any deaf person in the United States who requests it. A significant importance is that deaf people can be included in business meetings using this service.
By understanding how assistive technology is used in the workplace, you can be a better advocate for your coworkers with disabilities accessing the tools they need to be successful.