Members of the Max Starkloff Society gathered to celebrate a milestone year for the organization, and revel in the achievements the Starkloff Career Academy and the DREAM BIG program. They met on June 14th in the stunning home of Harriet Felman, a new friend to the Starkloff Disability Institute.
Guests savored a buffet of dim sum and enjoyed the company of Society members, Board Members, Career Academy graduates, DREAM BIG families and new friends to introduce to the organization.
Starkloff Career Academy graduate Andrew Sartorious spoke about his career as a trial lawyer, and how building a case for support from a jury is not all that different from building a case of support for a non-profit.
DREAM BIG participant Eric Kaiser moved everyone in the room when he shared his journey to accept his disability and share it with his high school peers, after attending DREAM BIG in the summer of 2017.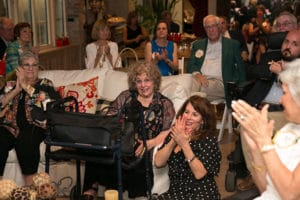 To view photos from the evening, click here.
Interested in becoming a member of the Max Starkloff Society? Learn more about the benefits here.