"Where do virtually all candidates and employees go to get information about your company, about their benefits – your company's web site, right?" Colleen Starkloff queried the participants in her opening remarks at our new Workforce, Workplace Disability Summit. One hundred hiring professionals and business leaders representing 23 companies gathered on December 14 to learn how to increase disability hiring in their workplaces at this discussion, presented by Starkloff Disability Institute. The Four Seasons Hotel in St. Louis was the backdrop for this half-day seminar, focused on how to create a more inclusive workplace for qualified people with disabilities.  
This day of learning consisted of two keynote presentations, four breakout sessions, lunch and a breakfast networking session.  
The opening keynote was presented by November Champion, Senior Online Accessibility Strategist at Wells Fargo Advisors. November's presentation, "What business leaders need to know about web accessibility," shined a light on an often overlooked area of accessibility.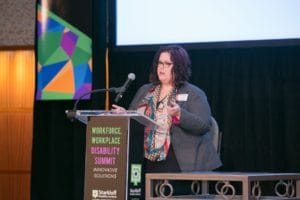 Afterward, all participants went to a breakout session of their choice. The sessions were led by some of St. Louis' leaders in disability inclusion. Quincy Jones, Global Talent, Diversity & Inclusion at The Boeing Company, led a discussion on recruitment. Ron Maurer, Director of Diversity and Inclusion at Express Scripts, detailed how to create a welcoming workplace. Wade Rakes, Chief Diversity and Inclusion Officer for Centene, explained the best practices in accommodating a new team member with a disability. Finally, Tony Sofia, Talent Acquisition at Wells Fargo Advisors led a group discussion on the best practices in interviewing a candidate with a disability.  
Each facilitator presented the group's key learnings on stage following the breakouts, while participants enjoyed lunch.  
Steve Degnan, SDI Board Chair and Chief HR Officer for Nestle Purina, was next to the microphone to address his peers. "Like most hiring professionals, you're faced with finding skilled and talented professionals to add to your team," he began.  "And like many of your peers, you know the impact of recruiting people with disabilities, but you may not feel your staff understands the unique dynamics.  Your company may not be as ready as it can be to welcome them. That's why Starkloff Disability Institute exists – to give people like us access to some of the country's leading disability experts. They can provide our companies with professional development, consultation services and programs to give you, your team, your company's leadership the training, tools and resources needed to effectively recruit and retain people with disabilities in its workforce; the workplace."  
David Newburger then took the stage to introduce just how SDI will bring these training tools into companies in 2018. He introduced SDI's 2018 Course Catalog. This booklet outlines specific training tools that SDI can bring into a workplace to address specific needs. Specifically, two public courses for hiring professionals will be held next year; the Spring and Fall courses are individually outlined in the course catalog. Each participant received a copy of the booklet, and it is available for download BY CLICKING HERE on the SDI website.  
The highlight of the day was when keynote speaker Megan Lawrence, PhD., Accessibility Technical Evangelist at Microsoft took the stage. Megan travels the globe spreading the word about accessibility for all. She builds trusted relationships with customers, NGOs, and Assistive Technology partners to further Microsoft's mission of empowering every person and organization to achieve more. She works with internal Microsoft teams to improve accessibility and usability of products and services by increasing the quality and quantity of feedback from users with disabilities.  She has worked with the disability community for over 13 years conducting user research to not only provide accessibility solutions, but to ensure that users with disabilities are an integrated part of the design, development and testing process. Throughout her career, she brings together the disability community and key stakeholders to provide a feedback loop to make products and services accessible to the greatest number people possible. 
Her presentation extolled the virtues of universal design; how creating products for everyone drives innovation and improved design. "Everyone can use the same devices. There are no separate devices for people with disabilities," Megan said. "People who want to use the accessibility features just simply turn them off and on, personalizing their device." She used the speech-to-text feature as an example.  Originally designed for people with low or no vision or low mobility to send a text message, it is now a feature that the majority of society – with or without a disability – loves to utilize.  
SDI thanks all the participants for attending this important day or learning. Twenty-three companies and organizations made a decision to invest in this important training. We are especially grateful to those who sponsored this event, and allow us to continue brining this quality programming to the St. Louis business community. Thank you to the Centene Corporation for being the Presenting Sponsor of this event. Our thanks also go to Bi-State Development, Enterprise Bank & Trust, Microsoft, Nestle Purina and Washington University. We are very grateful to our Partner Sponsors, the Human Resource Management Association of Greater St. Louis.