A roaring fireplace welcomed more than 80 steadfast supporters inside the Deer Creek Club on Tuesday, November 27, to celebrate the 15th anniversary of the founding of the Starkloff Disability Institute. Undeterred by the bone-chilling 18 degree weather, past and present board members, benefactors, graduates, friends and staff communed to celebrate this milestone and to give one final budget boost to SDI programs before the year-end.
"For several years now we have gathered here on the Tuesday after Thanksgiving, a day which is globally known as Giving Tuesday," said Colleen Starkloff from the podium. "Our Giving Tuesday theme this year is 'SDI Grown.' Over the past 15 years, SDI has grown into a top-notch organization: our programs, our staff, our budget, our graduates and our messages – all are strong and successful," Colleen boasts.
Colleen then acknowledged the many dedicated people who contributed to this success, specifically individuals who stepped forward 15 years ago to serve as the Founding Board Members to ensure our young organization started down the right path: Carolyn Losos, Tom Harig and H. Milford. Colleen presented an etched glass award to Tom Harig and Emily Milford, widow of H., who passed away earlier this year.
Board Chair Steve Degnan recognized past and present board members in attendance, and thanked the SDI staff for all their hard work and dedication.
"This is a milestone year for many reasons," announced Degnan, "but it is also the first time SDI has raised more than $1 million dollars in a calendar year! And the year is not over yet!"
Degnan excited the crowd with hints of what is on the horizon for SDI in 2019 and beyond. (Stay tuned for more.)
The pinnacle of the evening came with a special video tribute. For our 15th anniversary, we created a video to bring you 15 messages from candidates, companies and community partners that reflect the impact of our work.
Click the image below to watch the video: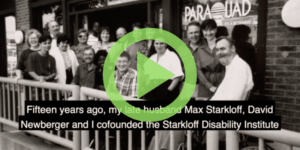 Not only was the 15th anniversary party a big success, Giving Tuesday was a big financial success for SDI. In honor of our 15th anniversary, an anonymous donor gave a matching gift of $15,000! For every dollar we raised for our anniversary and on Giving Tuesday, this generous donor matched it dollar for dollar, up to $15,000. We are happy to report that we raised a total of $15,942 to meet the challenge!
We are deeply grateful to everyone who has made this year so successful. We are proud of the growth we have experienced over the past 15 years and look forward to many more in which we will continue to work towards the full and equal participation of people with disabilities in society.