While in the process of getting their Masters of Social Work (MSWs) at Washington University's Brown School of Social Work, Shamshir Tarlanov, Kate Polokonos and Genevieve Atkins and are learning the practical application of their education at Starkloff Disability Institute.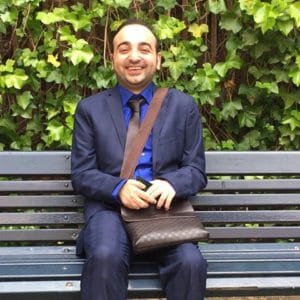 Shamshir Tarlanov is a second year MSW candidate at Wash U's Brown School of Social Work. He is studying Children, Youth and Family. "My ideal job is working with individuals who have a disability both on macro and micro levels."
Sham is working on the Motivational Mondays Job Club at SDI. He values Starkloff's ideals of inclusiveness and equal opportunity.
"SDI works with individuals with disability one-on-one to prepare them for a job interview, explore their strengths, do career coaching and set realistic goals to land a decent job," Sham observes. "And then, SDI collaborates with the companies to embrace diversity, including disability. I think this is a multifaceted approach which makes services and programs effective and efficient.
"When you put the unemployment rate of individuals with disability against those without, the gap becomes more conspicuous," Sham says. Studies indicate that companies are still reluctant to hire people with disabilities, despite the 1990 Americans with Disabilities Act.
"The reason I am doing my practicum here is that SDI is working with companies to change the myths and misinterpretation related to the accommodation, undue financial burden of hiring individuals with disability," Sham reports. He points out the relation between employment and independent living, and sees how SDI is empowering people with disabilities, opening doors for new opportunities.
Sham worked with international and local organizations in his country. "I think having such work history in an international setting might present me with different perspectives while I am working here," he believes.
"I recently started doing Yoga stretches that are boosting my overall positive mood and daily functioning," Sham reveals of his free time spent. He also enjoys catching up with his family and friends, reading, watching Netflix and documentaries … "When I'm not studying."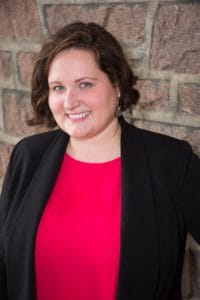 Kate Polokonos is in her first year at the Brown School of Social Work. She's studying Children, Youth and Family, and Public Policy. "I'd love to be a policy analyst after graduation," she affirms.
At SDI, she's currently working on designing a curriculum evaluation for our Dream Big program. "I'm researching education and workforce policies that impact people with disabilities.
"I am so grateful for this opportunity to learn at Starkloff under the guidance of the people who are at the forefront of disability rights and advocacy," Kate proclaims.
As a high school teacher, Kate came to the realization that education reform is needed in order to support students and teachers, to promote educational equity.  "Starkloff is a great place to observe how education and workforce policies are implemented and impacting lives," Kate observes.
Kate enjoys working with teenagers. "And I've found they usually like working with me — I think they enjoy my nerdy strangeness," she admits.
When she's not studying, Kate loves going to musicals. "I put in the soundtrack and sing obnoxiously to my husband on the way home," she jokes.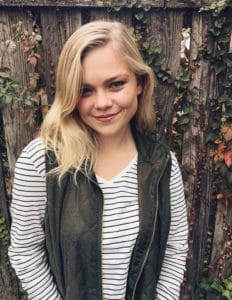 Genevieve Atkins is also in her first year at Brown School. "After graduation, my ideal job would be helping older adults or those with disabilities," she tells us. "I plan on attending a PhD program after two years of working in the field."
At Starkloff, she is working on several tasks. "For instance," she explains, "I will be working with candidates as well as helping with the Capstone Course.
"I have a passion for working with non-profit organizations," she reveals, "especially those who are working with individuals living with disabilities." This is why Starkloff was a perfect place for her practicum practice.
"I want to work in a field that gives me the opportunity to create positive change in individual lives," Genevieve says. "My motivation lies behind my experience with Epilepsy. I want to support individuals the way I have been supported."
Creating positive change in her community prides Genevieve as her special talent. "I am very self-motivated to take on tasks with optimism and perform them to the best of my ability."
Genevieve loves going on walks with her dog as well as reading good books in her free time. "I also enjoy eating my favorite foods and exploring St. Louis."
We know Kate, Genevieve and Sham will go on to bring great things to our community. We're proud they chose SDI for their practicum. Here's to their bright futures!