PARTY TO THE MAX: IT'S ABOUT TIME
A Virtual Gala
is a night for remembering, renewing, and rejoicing! Join us online for an evening of live music, celebrity guests and captivating stories. As we mark the 30th Anniversary of the signing of the Americans with Disabilities Act, we are celebrating the achievements of the past and investing in the future we still need: a world that welcomes people with disabilities.
featuring Bob Costas, Master of Ceremonies
Saturday, September 26, 2020, 6:30 PM - 8:00 PM
HONORING Judy Heumann with the Max J. Starkloff Lifetime Achievement Award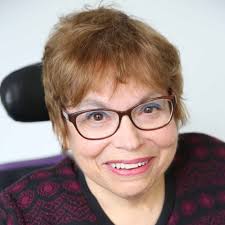 Judy Heumann is an international Disability Rights pioneer. From her time as a counselor at Camp Jened, to leading the 504 sit-in, founding the World Institute on Disability with Ed Roberts and Joan Leon, serving at the U.S. Department of Education, the World Bank, and at the U.S. State Department as the first Special Advisor on Disability Rights, Judy has always been leading the way for equality and inclusion of people with disabilities. Her advocacy has been fundamental to all the progress made over the past 50 years. Judy was a founding Board Member of SDI, shaping our mission, and continues to work tirelessly for the full participation of people with disabilities in every aspect of our society.
SPECIAL MUSICAL GUEST Gaelynn Lea - Violinist and Disability Advocate

When Gaelynn Lea won NPR Music's 2016 Tiny Desk Contest, it was just the beginning of a grand adventure. The singer-songwriter and violinist hit the road and has graced the stage of renowned venues like Nashville's Music City Roots, The Kennedy Center, House of Blues and even BBC World News. In addition to performing and recording, Gaelynn has taken to global stages to talk about disability awareness, accessibility in the arts, and living an enriching life. She has a congenital disability called Osteogenesis Imperfecta, or Brittle Bone Disease. Gaelynn is a strong voice in the disability community; she uses her music as a platform to advocate for people with disabilities and to promote positive social change.
BUY YOUR TICKETS TODAY:

Questions or concerns? Contact Maggie Mahoney, Development Associate at mmahoney@starkloff.org.